---
5th Class Tour to Aran Islands and Cliffs of Moher
June 12th, 2019
Thanks to Zuzanna Kusko's amazing artistic talents, our class won a the chance to go on a cruise of the Cliffs of Moher. After tense negotiations in recent months, we decided to add a trip to Inis Oírr to our school tour!! We met bright-eyed and bushy tailed at 8am and set off on the bus to Doolin Pier. The ferry crossing was lovely and smooth. We had great fun playing in the playground, exploring part of the island, visiting a shipwreck, having an outdoor picnic, playing soccer, badminton and racketball, and buying some treats in the shop…it was a good opportunity to make use of our 'cúpla focail' sa siopa!! On the way home, we were lucky to get seats on the top deck of the ferry which brought us right under the bottom of the Cliffs of Moher. We had an amazing view of the cliffs from below. The people up doing the cliff walk looked really small. We saw a sea-stack, a sea-arch, Harry Potters cave and loads of interesting birds and sea-life. It was a fantastic day and many of us needed to recharge our batteries with a nap on the way home!!
---
Active Juniors
May 10th, 2019
We love to be active in Junior Infants!
Hop, Skip and Jump on over to our activities!
---
Active School Slogan
May 10th, 2019
We recently ran a competition to find our new Active Schools slogan. Children from 3rd, 4th, 5th and 6th class came up with slogans and designed posters. The Active School Committee met this week to begin the very difficult task of choosing the winning slogan. It really was tough! All the entries were amazing and very catchy. The winning slogan was from Angel in 5th class with her cool and catchy phrase – Jump, Run and Have some Fun! Well done to all the children for their fantastic posters!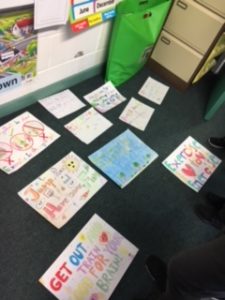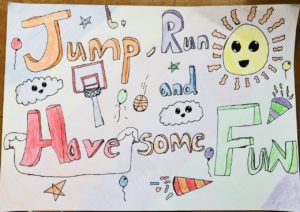 ---
1st Class Getting Fit!!
May 10th, 2019
First Class have been making a super effort to improve their fitness levels. We have been running every day and have nearly reached our target of running to Wales!! The children love this time out of the classroom and we definitely have seen an improvement in everyone's fitness levels across the board!! Even on wet days when we don't get outside the children get to do exercises in the classroom. Let's keep it going everyone!!!!
---