---
Engineers Week
March 13th, 2017
As part of Engineers Week, 5th and 6th class were delighted to be invited to visit Atlantic Airventure in Shannon last week. There, we met volunteers who work in local company, Lufthansa Technik. We learned how different parts of an airplane are made and got to look inside an old engine. Some groups got to fly their own arcade simulator while other groups got to go into a real simulator with a real pilot. That was great fun!! We also watched a a video of how planes are made…it's a complicated process!! We got to see many different types of old planes that aren't in use anymore. Some of us even got to sit into the cockpit of one plane!!
Before we left, we all got a goody bag, t-shirts and some life jackets for our school!
Huge thanks to all the staff in Atlantic Airventure and the people from Lufthansa Technik who gave up their time!
---
Junior Achievement
March 10th, 2017
In 3rd Class, we have been really lucky to be learning about our town with our Junior Achievement volunteer Caroline. Caroline works in a local company and is sharing all her business experiences with our class. It is very interesting to learn about people who work in our community. Here are some pictures of a city that we build. We had lots of fun constructing our buildings which formed our city.
---
Pizza Party
March 10th, 2017
Third Class have been so lucky as a boy in our class has won a pizza making party for the whole class. Thomas, a boy in Third Class, created a fabulous, colourful picture which was entered into the local Supermacs competition. Check out some of pictures which show all the fun we had!
Mmmmmm… it was yummy!
---
Athletics Adventures
March 10th, 2017
We had great fun in St Tolas preparing for the Sportshall Athletics event. Check out all the field events that we had to practise. These include: the javelin, speed bounce, vertical jump, chest pass, long jump, triple jump and speed bounce. We have a lot of talent in St Tolas and we look forward to developing all our new found skills this year.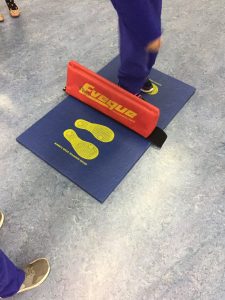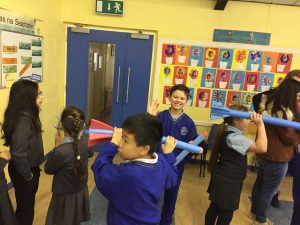 ---
Thursday Note 9th March 2017
March 9th, 2017
Dear Parents/Guardians,
We hope you are having a good week as the weather has at last improved and there is a feel of Spring in the air. Our news this week is as follows
5th and 6th class had a very interesting workshop in Atlantic Air Venture on Tuesday last. This was part of Engineer's Week. The pupils really enjoyed the workshop and we thank Atlantic Air Venture for their generosity in inviting the pupils to their premises.
---