---
Thursday Note 30th May 2019
May 30th, 2019
Dear Parents/Guardians,
We hope you are well as we head into our mid-term break. Our news this week is as follows
We wish all our pupils in 6th class who are making Confirmation all the best today. We hope they and their families have a lovely day. Thank you to our pupils in 4th and 5th classes who are helping out with the choir. It is greatly appreciated.
---
First Class Write-A-Book 2019
May 12th, 2019
What an experience the children had during the Write-A-Book process this year. They learned to plan a piece of work, draft it, edit it (more than once) , illustrate it and publish their own text. We sent our books off to be judged by another teacher in West Clare and we enjoyed viewing their entries for the competition too. We had three winners from our class chosen to receive a presentation from the Clare Education Centre in the Auburn Lodge on Tuesday 7th May ~ Chloe Mullan, Daithi Lynch and Ruby McCormack. Once we received our books back the whole class was presented with their certificates by Ms. Fitzgerald at Cruinniu last Friday. The children also had the fantastic opportunity to have an 'Author's Presentation' to every class in the school. They got to discuss their books with children from other classes. They had a fantastic afternoon! Thank you to all the parents who helped the children through the process.
---
Chick Visit to 1st Class!
May 12th, 2019
We had a lovely visit from Jessica's grandparents who brought with them 3 lovely 5 week old chicks on Thursday. The children got the opportunity to ask lots of interesting questions. We even heard them chirping!
---
Active Juniors
May 10th, 2019
We love to be active in Junior Infants!
Hop, Skip and Jump on over to our activities!
---
Active School Slogan
May 10th, 2019
We recently ran a competition to find our new Active Schools slogan. Children from 3rd, 4th, 5th and 6th class came up with slogans and designed posters. The Active School Committee met this week to begin the very difficult task of choosing the winning slogan. It really was tough! All the entries were amazing and very catchy. The winning slogan was from Angel in 5th class with her cool and catchy phrase – Jump, Run and Have some Fun! Well done to all the children for their fantastic posters!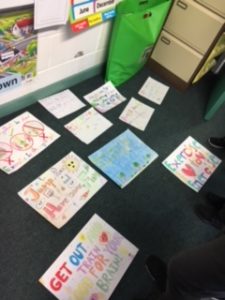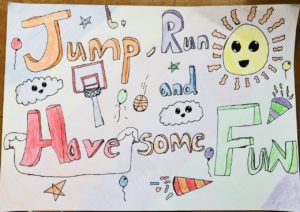 ---