---
Thursday Note 30th September
September 30th, 2021
Dear Parents/Guardians,
We hope you are well this week as we reach the end of September. Our news this week is as follows
The HSE have issued new guidance for parents/guardians re changes to testing and contact tracing in primary schools. This can be accessed at
https://www.gov.ie/en/publication/13610-information-for-parents-about-the-changes-to-contact-tracing-and-testing-for-children-aged-between-3-months-and-13-years-in-early-learning-and-care-elc-and-school-age-childcare-sac-education-primary-school-sports-and-social-settings/
if your child develops symptoms of Covid 19 or seems unwell or off form the advice remains to not send them into school and contact your GP for advice. For an up to date guide on symptoms please see below
https://www.gov.ie/en/publication/a04fc-advice-for-students-and-their-families/
2nd class have been busy as they are taking part in a literacy hour every Monday, Tuesday and Wednesday. They are revising phonic sounds and using this skill to decode and extend their word knowledge. They are also applying these skills to writing. Ms Kelleher, Ms Halliday, Ms Riordan/Ms Fleming and Ms Fitzgerald are working with them on this initiative. As well as that 2nd have been learning all about people in the community this week. They have been discussing what jobs they would like to do when they are older. They also explored what the job of an astronaut entails. Maybe we have a future astronaut in 2nd class!!!
As we roll out our Weaving Wellbeing programme across all classes we are putting up a Gratitude tree on the window at the front of the school. Every week two pupils from each class will be asked to contribute to this saying what it is they are grateful for. We hope to share these across the whole school at Cruinniu on Fridays.
As the weather has turned colder and wetter this week we ask that your child brings a coat to school. If we can get outside at breaktimes we will even if there is a slight drizzle. A coat may be necessary for your child. It is important to aid ventilation in the classrooms that pupils get outside as much as possible.
Kind regards,
Mary Dunlea Fitzgerald, Principal
---
Thursday Note 23rd Sept
September 30th, 2021
Dear Parents/Guardians,
We hope you are keeping well this week. Our news is as follows
The new Lunchbag service launches today in St. Tola's. This is an opt in or out service at any time and there is no obligation to take part. If you do wish to order a lunch for your child the order must be placed before 12p.m. the day before to guarantee delivery on the day of choice. Pupils must bring the empty lunch bag home for recycling (like they would with their own lunch) as we do not have facilities to do this in the school.
Our new Aoibhneas class is up and running for the past few weeks. We are delighted with our pupils in the class and how they are getting on. This week they have been having great fun learning all about Humpty Dumpty, listening to rhymes and songs and following their programmes. Well done Aoibhneas Class!
Last Monday 3rd, 4th and 5th classes all took part in a webinar with the well known author David Walliams. He discussed where he gets his inspiration for his characters and stories, a little bit about the writing process and his new book. While we may all have Zoom fatigue it is a great tool when pupils get access in their classrooms to such a well known author first hand.
As part of our Social, Personal and Health Education curriculum we have taken on the Weaving Wellbeing programme across the school this year in all classes. Weaving Well-Being is the first Irish designed positive mental health programme of its kind which aims to enhance well-being in primary school children. This Positive Education programme consists of 10 lessons for each class level and is grounded in evidence-based interventions from the rapidly expanding field of Positive Psychology. Positive Psychology is the science of well-being. It is underpinned by the concept that a state of well-being is not simply the absence of the negative, but the presence of the positive. Weaving Well-Being gives children the opportunity to weave positivity into their daily lives through a range of activities in a variety of areas. These areas include identifying and using their authentic character strengths, boosting positive emotions, developing and nurturing positive relationships and connections, building practical resilience skills (including mindfulness) and developing self-efficacy through empowering beliefs. All classes are using the Weaving Wellbeing programme at the start of this school year.
6th class got to go on a nature walk on Monday last when they went down to the viewing area at the Point. It was lovely to get out an about in nature in our own area close to the school.
Kind regards,
Mary Dunlea Fitzgerald, Principal
---
Thursday Note 16th Sept 2021
September 16th, 2021
Dear Parents/Guardians,
We hope you are keeping well this week. Our news is as follows
Congratulations to the pupils in 3rd class who made their First Communion last week. They were just brilliant and did themselves, their school and their families proud. Thank you to the Parents' Association who funded a little treat for each child. Thank you to Ms O' Neill, Ms Clancy and Ms Fitzsimons for all their hard work in preparing the pupils for the ceremony. Thank goodness the weather was kind to us and we hope that each boy and girl have very special memories of their Communion day.
Our Junior Infants are now doing a full day from last Monday. No doubt there were a few tired pupils this week as all that extra learning requires a lot of energy! They will soon get used to the full infant day.
Our Junior Infants got to go outside yesterday and look at one of the oak trees behind the school. They saw the oak leaves and acorns. They were spotting the signs of autumn and will keep an eye on this tree throughout the year to see how it grows and changes.
From next Thursday 23rd September you can order your child's lunch via The Lunch Bag app. Every pupil will get an intro lunch to bring home on Tues for parents to view. Please note this service is opt in and pupils can continue to bring their packed lunch as usual if they wish. All info was emailed yesterday.
Rugby- St Senans RFC, based here in Shannon, have a mini rugby program that caters for players (boys and girls) from u6 up to u12 (u12s are children with 2010 DOB for the coming season). They are looking forward to welcoming back existing players & also any new players who would like to play rugby this season and they are back training from Sunday 12th September & every Sunday at 10am and players can come along any weekend from the 12th. Enquires to Niall Dowds 086 8246412/Aaron Diviney 087 2137128.
Taekwon-Do – Shannon Taekwon-Do offer age specific classes from 6 yrs up and enquiries can be made to Adrian Byrne 087 8259243
Please make sure your child has a coat coming to school every day. We will be going outside as much as possible at break and lunchtimes in order to ventilate the classrooms. Please make sure your child's name is on a label on their coat so they do not lose it. We thank you for your co-operation.
Kind regards,
Mary Dunlea Fitzgerald, Principal
---
Thursday Note 9th Sept 2021
September 9th, 2021
Dear Parents/ Guardians,
We hope you are keeping well. It has been lovely to have the nice weather this week and let's hope it remains for the weekend. Our news this week is as follows
As you are aware we have had a positive case of Covid 19 here in the school. Thank you for all the co operation with the school and the HSE from families who have children isolating. Can I repeat again if your child has any Covid like symptoms please do not send them into school but contact your GP for advice. If your child is sent for a Covid test and tests positive please let the school know as soon as possible. Due to the high volume of cases within schools there is a delay in the HSE contacting schools to let them know. If you contact us directly by phone at 061 362894 between 9a.m. and 3p.m. Monday to Friday or by email on office@tolasns.com at any time (emails will be monitored out of hours) we would greatly appreciate it. This means we can contact the HSE promptly and get the contact tracing process started as soon as possible.
We wish the pupils in 3rd class who are making First Communion on Saturday all the best. They made their First Confession in Mary Immaculate Church on Monday evening last and we were all so proud of how well they did. First Communion will take place on Saturday at 2p.m. in Mary Immaculate Church. The pupils' family bubble plus Grandparents can attend and social distancing measures will be implemented in the church. We hope the pupils have an enjoyable and memorable day.
Our Junior Infants will have a full day from 9a.m.-1.40p.m. from next Monday 13th. We know they will adjust very well to the longer day. They will need a small snack for break and their lunch for lunch time which will be from 12p.m.-12.30p.m. for them from Monday.
Just a reminder re school uniforms. Pupils must wear their school uniform/tracksuit to school every day. We appreciate your co-operation on this.
Work has begun on the prefab for our new Multiple Disability class at the side of the school. Fencing has been erected and we expect the work to take a few weeks. The class are currently using the hall and we are all looking forward to the class having their own dedicated classroom.
Kind regards, Mary Dunlea Fitzgerald, Principal
---
Students of the week 3rd Sept 2021
September 3rd, 2021
Well done to our students of this week!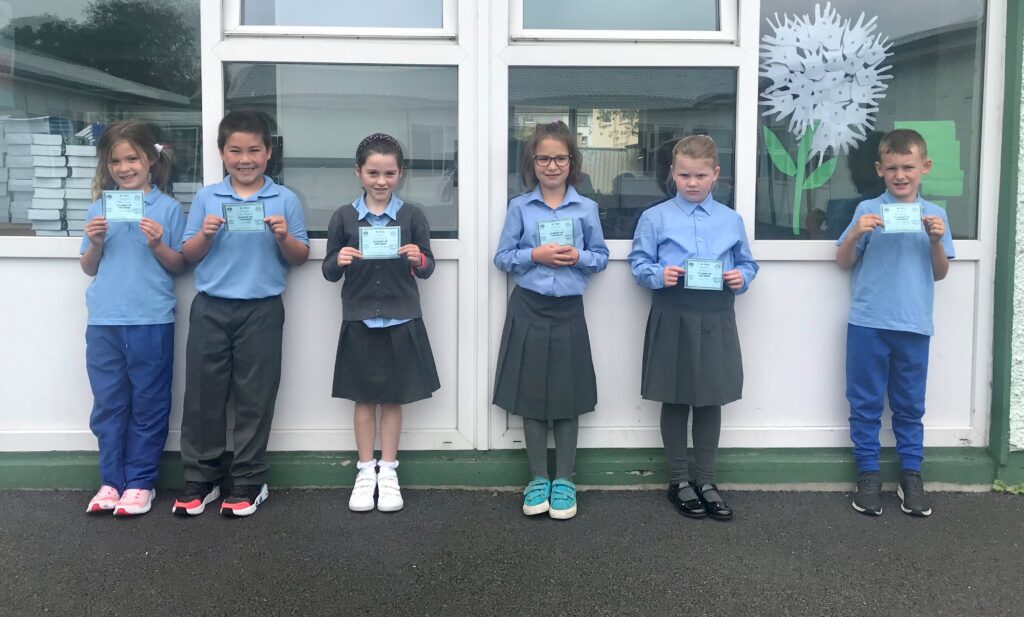 ---